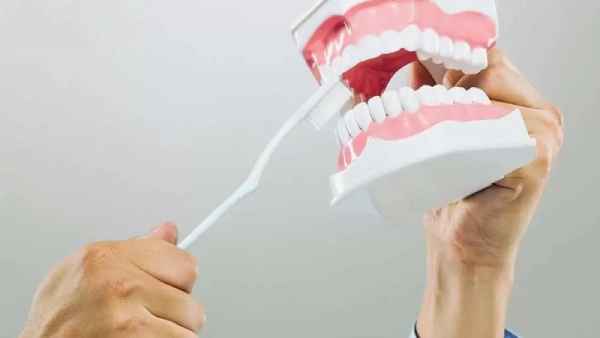 Dentures have come a long way since the cliche of a grandparent putting their teeth in a glass of water by the bedside table at night. These days patients have the options of traditional removable dentures and also fixed or removable dentures by way of dental implants. What do these terms mean and which is the right option for you?
What Are Implant Dentures?
If you have a missing tooth, the most effective treatment is to replace it with a dental implant. If you have many missing teeth, or one or both arches need replacing, dentures fixed to dental implants may be the way to go.
In this case, your dentist will place several dental implants into your jaw to replace the roots of the missing teeth. A fixed or removable denture, or false teeth, can then be attached to the denture implants, creating stable, natural looking and functional teeth replacements.
Removable Implant-Supported Dentures
If you are already used to traditional removable dentures, upgrading to denture implants might be a good move. For an upper arch, dentists will usually place 4 to 6 denture implants to ensure a strong anchoring point for the dentures. A full arch replacement is also known as an "All on 4" restoration, where a denture is attached to 4 implants.
For lower jaw dentures, as few as two implants can be used, depending on the patient. The prosthetic teeth are then attached to the implants via a bar attachment which allows for removal and also gives them the nickname of "snap-on dentures".
Why Choose Removable Denture Implants?
May be more cost effective than fixed denture implants.
Allow for a more natural feel than traditional dentures that cover the palate.
Removable dentures are easier to clean and care for.
If your bone density can't support fixed implant dentures, removable implant dentures may be a viable option.
Fixed Implant-Supported Dentures
As the name suggests, fixed implant dentures are not meant to be removed by the patient and are permanently attached to the dental implants. In this way, patients can brush and care for their dentures as if they were real teeth.
Fixed denture implants are also called "screw-retained dentures" as the prosthetic teeth are attached to the implants via a screw, meaning they are extremely stable and not removable.
Why Choose Fixed Denture Implants?
Look and function like natural teeth
No need to remove prosthetics to clean them
Patients can forget they have dentures
Are Denture Implants Right For Me?
To see which type of implant dentures are right for you, schedule an appointment with your dentist. If you're in Missoula, MT and surrounding areas, contact Discovery Dental Group for cutting-edge dental solutions in a welcoming environment.